The latest news and developments from the Neocronicle News Team.
Created on 24.09.2017 11:05:10 by Dexter White
We have received reports from several sources that we are about to be overran by Warbots – in an apocalyptic event that is set to make the destruction of the Dome of York appear trivial.
So far, City Administration has refused our interview requests; but have issued the following statement:
"All citizens of Neocron are safe, there is no coming apocalypse!"
Although City Administration states there is no cause for concern, runners from other areas seem to disagree. We met a scientist who wishes to remain anonymous. He believes that the Warbots are controlled by a hitherto unknown power and are set to put Neocron to ruin. In preparation, he has been working upon a new weapon to battle the Warbots. It is worth noting that he was unable to provide evidence to back up his claims.
The weapon, claimed to significantly improve the chances of those battling against Warbots was not shown to us – however, we managed to acquire a rough sketch.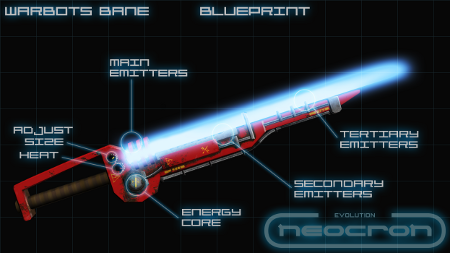 We asked Tangent Technologies to comment on this development, who advised:
"Tangent Technologies advises against citizens purchasing any weapon that has not been directly developed and certified by us. Further, we will seek to pursue anyone selling or otherwise issuing any weapons which impose upon Tangent's intellectual property – in a bid to keep unsafe weapons from the streets. In guns, we trust."
It is understood that Tangent Technologies will happily offer advice and testing to runners for a nominal fee. Please contact the Tangent Technologies HQ for further information.
We will continue trying to get interviews, and will keep you up to date with any developments.
Dexter White
Neocronicle
Created on 24.09.2017 11:03:29 by Otto Kriek
City Administration has issued a reminder to all citizens regarding the perils of hunting for an allegedly lost Crahn treasure cache. Rumours first circulated of a lost trove of treasures left behind by the Brotherhood of Crahn following their rapid evacuation of the Dome of York in wake of the The Second War.
Following their exit from Neocron City, it is believed that the Brotherhood removed a number of priceless relics from their church, which were interred at the Dome. A number of eye witnesses claim to have seen large metal chests marked with the Brotherhood's crest being moved under heavy guard through the Outzone and into the wastes. The nature of their contents remained speculative until one was recovered last year by chance within the Swamps – potentially lost following an ambush by mutants. The chest was recovered by a team of City Admin runners, and was found to contain a cache of documents, precious metals and jewellery.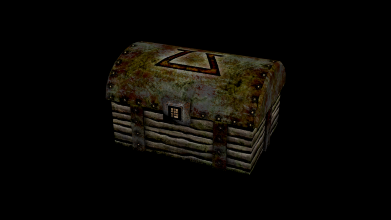 The small windfall had initially resulted in dozens of Runners braving the dangers of the wastes to locate further chests.
Now, it appears that teams have taken to attempting to infiltrate the ruined Dome of York, hoping to uncover any treasures lost when the Dome collapsed.
Joel Sager, spokesperson for City Administration has spoken out.
"Beyond the obvious dangers of the wastes, the Dome remains an irradiated ruin, guarded by DOY cyborgs. We consider the site to be highly hazardous, and urge Runners to maintain their distance. We simply do not have the resources to assist anyone who finds themselves imperilled there."
Otto Kriek
Neocronicle
Created on 24.09.2017 10:57:52 by Chris Friedel
Where do you go to hang out with big-titted whores? For lots of us at the Neocronicle office, Electric vibes was our prime destination – a simple trip from Outzone Station and a large, cavernous nightclub with plenty of seating and lots of ladies, ready, willing and able to cater for our expensive, insatiable and various appetites.
This may change, however, as news reaches us of Electric Vibes receiving a record fine of over 150,000 credits for – get this! – unhygienic business practises...
That's right, while the dry-wipe seats can easily be brushed down ready for more fun, some off-duty health inspectors partying in the club noticed small wiry hairs sticking into one of the chairs, and a green slimy substance on the dance floor. Electric Vibes, it appears, has been conducting the infamous "anything goes" Hard Dromming nights!
Dromming is a fairly recent phenomena, and takes its name from the old practise where people would meet up in the wastelands to have intimate relationships with strangers, or just watch. One day, it is rumoured, a local… indigenous species got in on the act, and "Hard Dromming" was born. And now, it appears, Electric Vibes has been seeking to profit from such depravity.
Punters speaking on condition of anonymity have described weeping sores and embarrassing rashes breaking out on their nether-regions, as well as inflammation and uncontrollable itching.
Runner:
"I swear I only sat down to watch a show, but the following morning I had to go get some cream from MediCare. The cream burns to apply, is designed to remain wet and sticky for weeks, and leaves a green stain that takes forever to fade, and stinks to high heaven, but anything is better than contracting long-term Dromula."
Patrons who have visited Electric Vibes in the past week are encouraged to seek medical advice.
Chris Friedel
Neocronicle
Created on 24.09.2017 10:57:51 by A.J. West
It's this time of year again! The nights get longer and colder, and as such, power armor life support systems are stressed to keep its user warm.
As in previous years, City Administration has again provided the means to lighten up the dark nights, and bring joy to the heart and eyes of the people of Neocron, by putting up Xmas trees. Not to be outdone, many corporations followed City Administration's example by putting up their own festive trees. Neocron is now bright with festive lights except for Pepper Park where, according to City Administration reports, trees erected are quickly defaced and destroyed.
Juan Alameda, owner of the Alameda Tree Farm, tells me that, "These are the best trees you can get from the wastelands immediately surrounding Neocron." Considering he's the only tree farmer you can find anywhere, you can be sure he speaks the truth!
To ensure quality, and to remove any threats to the trees, each tree is subject to a strict decontamination procedure of anti decontamination nanites which remove any hazardous materials from the tree. Allen Mathews, the City Administration's Agricultural Safety Manager, who is responsible for this nanite quality control process, said that, "Not even the smallest malicious atom could escape this procedure."
At this point we at the Neocronicle would like to remind you that night time noise prevention laws still apply during the holidays, especially in the residential areas. So even if the material extracted from the Ceres discs contains clues on a traditional song to sing around these Xmas trees, we ask you to please refrain from such behavior late at night.
A.J. West
Neocronicle
Created on 24.09.2017 10:57:51 by Xevitti del Mar
Recent rumors about impending changes to the weaponized Drone line by HEW Industries have been confirmed as the latest model combat drones have hit the market earlier this week.
Mrs. Taylor Gibbons, Public Relations Manager of HEW Industries, was gracious enough to answer my questions as to which changes were made, and why.
"We've been receiving complaints over the past few years about various aspects of our combat drone line, and we have spent millions into figuring out safe solutions to these issues as quickly as possible. We want our newly designed drones to meet all the requirements asked by us in whatever industrial or military needs our drones help to fulfill.
We received many complaints that the BeD (Brain-Eye-Drone ) connection was giving the user an extreme amount of kick back when a connected drone suffers any kind of serious damage. Our main concern was from the search and rescue teams who scour the Outzones for people stuck within collapsed housing. While these searches are conducted, many drones suffer debris damage and the amount of feedback to the user, while searching for these trapped citizens, was unacceptable for the mission.
Another major complaint was from a few corporations who said that training new Riggers and Droners became problematic with our low level style combat drones. Issues with aiming correctly was the biggest problem.
To address these two issues, we had to improve the drone's aiming gyrostabilization controls and redesign the feedback buffering in the BeD housing units. These two changes help to improve both aiming and visual feedback while the drones are deployed for use.
Now to keep costs the same as before, we had to increase the physical size of many of our drones to accept these new changes. We hope that the beneficial fixes to our drone far out weight any inconvenience to our customers about the drone's increased size."
And there you have it, straight from the HEW's mouth.
So go out and support Neocron with these newly improved drones by purchasing them today.
...Run safe, Runners...
Xevitti del Mar
Neocronicle
Created on 24.09.2017 10:57:51 by Matt Bunker
The small Snack'A'Tack store in Pepper Park Sector 3 was well renowned as a prime location to grab a quick snack or even make small talk with cheerful owner Harry Morgan for over a decade. Morgan suddenly shuttered the shop a few days ago citing a well deserved retirement effective immediately as his reason.
It did not take long for rumours to surface regarding the recent closure, with some hinting it may have been involuntary due to nonpayment of protection fees purportedly forced upon business owners by the infamous Black Dragon; this could not be confirmed. An NCPD spokesperson did respond to our request for comment stating, "Racketeering is a thing of the past."
One day after Morgan closed Snack'A'Tack, the briefly vacant location welcomed famed Yo's chain store onto the premises. The proprietor of Yo's expressed great satisfaction with the turn of events stating, "It has been a long-term goal for Yo's to branch out and service the people of Pepper Park. We are pleased to expand into this vibrant district."
Matt Bunker
Neocronicle
Created on 24.09.2017 10:57:50 by A.J. West
Last night an offensive strike began against the Tsunami Syndicate. According to preliminary reports an alliance has been forged by Runners of City Administration, City Mercs and Black Dragon to target the Syndicate. Currently the lines are buzzing with new information. Stay tuned, as always we will keep you informed.
A.J. West
Neocronicle
Created on 24.09.2017 10:57:50 by Jake Davies
Plaza 1, an area of the city famed for it's market of Runner to Runner trading has today become the scene of a shocking occurrence. While services, items and cold hard cash are the normal currency of this social landscape, bullets joined that list today. Or rather, one bullet, delivered into the head of a NeXT Runner on the poorer end of this particular transaction.
Others at the scene described the transaction as being normal everyday business, the NeXT Runner trading his repair services for some performance enhancing pharmaceuticals from a member of ProtoPharm. Out of no where the pair began to argue quite violently, one bystander claimed the NeXT Runner refused the trade as he believed the drugs he wanted had been cut with a lesser substance. Seconds later the ProtoPharm Runner, now known to be Hugh Glickman, exploded with rage, grabbed his holstered pistol and unloaded a single shot in the head of Mathew Degnan of NeXT.
Slow to react to the drawn weapon the local CopBots quickly neutralised Mr Glickman and locked down his GenRep revival to Via Rosso 3, where another team of 'Bots had been despatched to collect him. At the moment no one knows how Hugh was able to draw his weapon in Plaza 1 and whether his ability to do so was known to Mr Glickman at the time.
NeXT's Mathew Degnan was safely revived at the scene in MediCare of Plaza 1 and escorted to a safe location for a statement by the local CopBot Sergeant.
As more details emerge the Neocronicle will keep you informed.
Jake Davies
Neocronicle
Created on 24.09.2017 10:57:46 by Neocronicle
Neocron Citizens are concerned about recent reports of increased mutant activity, so it's up to the Neocronicle to investigate details and background information. Of course our first official video call connected to the City Administration, only to hear that there is nothing to be confirmed or denied on this matter.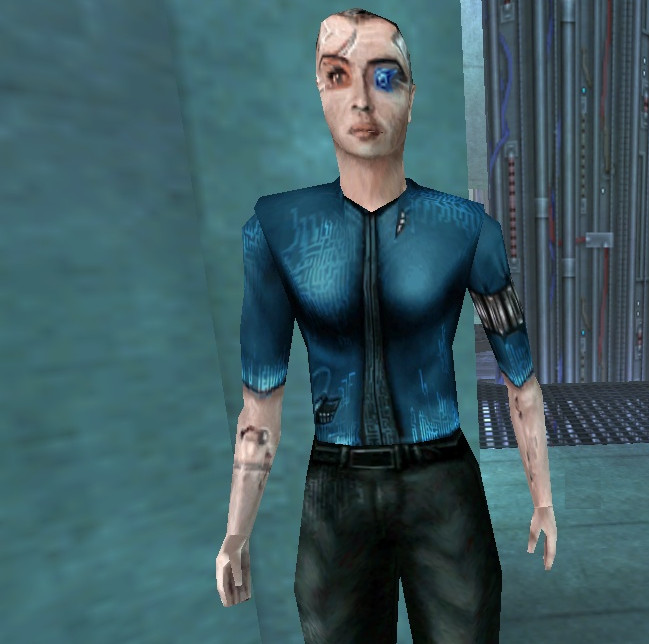 Fortunately we received a citycom message out of Tech Haven soon after – do those scientists just know more than ordinary people? As our reporter Tudor VanDerMeer traveled to the underground fortress of self-declared enlightenment for an interview with Fallen Angels data experts, we are now able to shed some light on the situation. Following is a recent conversation with a member of the FA chaos control center, pictured above.
"Dear citizens of Neocron - and i feel the need to address you this way - we all are in a dangerous situation.
As you all know, the corporations of Neocron city are competing for quite some time now, especially in the high-tech industries. This fierce competition has developed to a point, where you could call this an undeclared corporate war as well. We all heard reports of attempts of blackmail, murdered and missing persons.
But lately this cold corporate war has spread out into the hacknet, and this is where the real danger lurks. A rumour even says it's a fight for control of Cryton's, Neocron's most important high-tech retail chain.The Fallen Angels know of an on-going cyberwar between Tangent Technologies, Biotech, NeXT and Protopharm. Unlike former clashes and single casualties within company ranks, the danger is now spreading out to everyone and everywhere. As general security measures have been weakened in the increasing cyber-attacks, mutants are now enabled to break electronic seals on street latches and outdoor facilities - not unlike the taking over of undefended outposts in the wastelands. This situation is monitored by chaos control center of Tech Haven, but we're lacking the power to defend anyone against future mutant attacks. Be warned, citizens of Neocron!"
Created on 24.09.2017 10:57:46 by Tudor van der Meer
Since the recent population surge in Neocron city and the wastelands, numerous new apartments have been given and sold to runners of all factions. Rumour has it that this is a resource that could near it's peak someday, and tip over from abundance to scarceness. The same worries apply to the sector of armaments and consumer supplies for the hard working runner on the streets.
Since those were understandably getting worried about this, the Neocronicle took onto the task of shedding some light on this issue. We managed to get hold of a leading broker of Diamond Real estate, under the condition of anonymity. Our reporter Van Der Meer spoke to him in a corner of a moody local restaurant.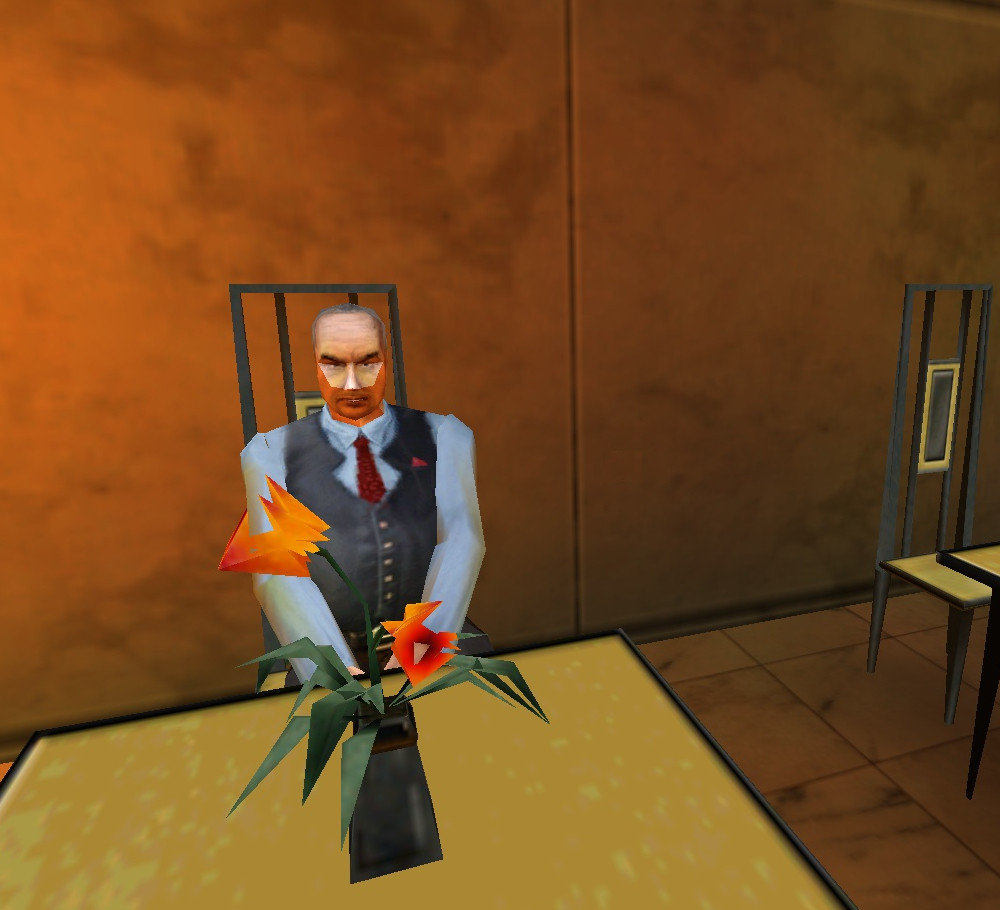 Question:
"There have been rumours of a rise of housing costs and apartment prices throughout the city, while less so in the wasteland dwellings of Tech Haven, the Military Base or the Canyon Facility – do you think there is merit to these whisperings?"
Answer: "Well, let me put it this way: The population surge would mean a tremendous business opportunity for the Diamond Real Estate agency – if it weren't for the City Administration, who ... regulates ... any free market options. On the other hand we are in talks with our business partners in the Pepper Park Area, who are more open to free trade and a market-oriented approach."
Q:
"Of course... does this mean a change in Diamonds relations to either the City Administration and the Tsunami Syndicate?"
A:
"You will certainly understand that i'm not in a position to comment on this matter. Only the future can tell which options the leading real estate corporation of Neocron will pursue".
To also get some input on the rumours about the weapon market, we sent our reporter for a meeting with Mr. Mazzaro, a top manager with Tangent Technologies.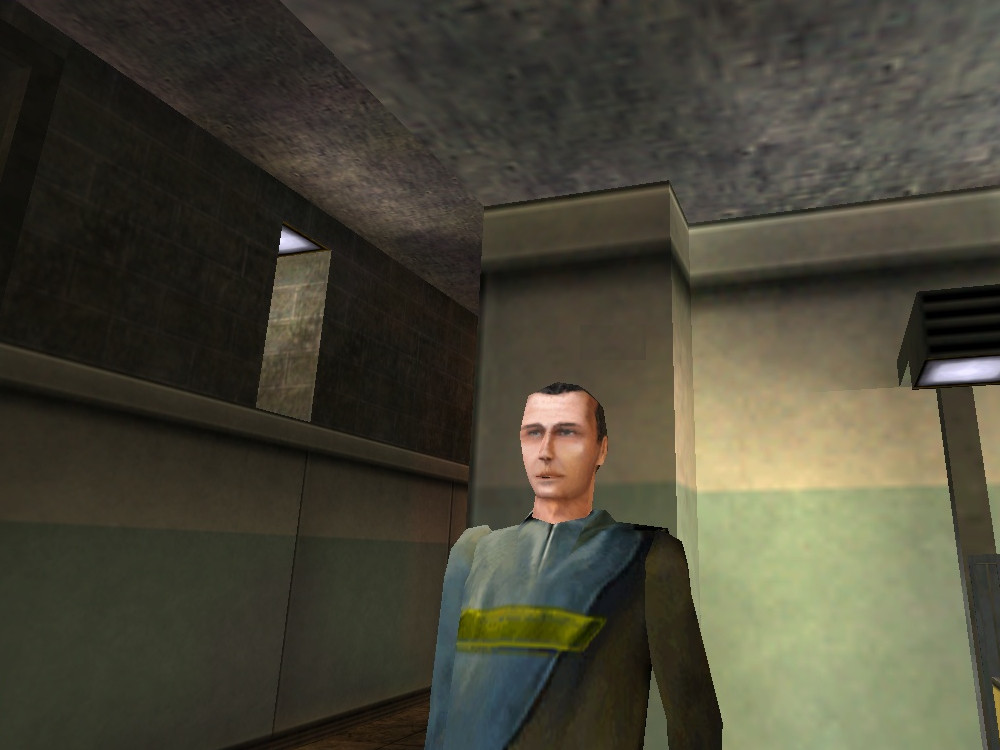 Q:
"Mr. Mazzaro, what can you tell us about rumours of weapon prices rising due to exploding demand?"
A:
"I must ask you not to waste my time with nonsense like that. Todays High End-user weapons are mostly custom manufactured by specialists, based on OUR designs mostly i'd like to add. Development of new weapons models on the other hand is severely hindered by our enemies and competitors, mainly in the ranks of Biotech and the Fallen Angels. We must insist on better security, as to be provided by the City Administration. If the situation is not improving soon, we need to strengthen our ties to both the City Mercs, with both firepower to back us up and their expertise in ballistics. We even consider collaborating with Protopharm who could become a partner in armour technology in the coming years. That's everything for the moment, Mr. Van Der Meer, I got more pressing businesses waiting. A productive day to you!"
While neither interview gave us a clear picture of coming market development in housing and weaponry, we instead received the impression of severe tensions behind the corporate storefronts.